Resources for Equine Healthcare – "The Horse"
https://www.thehorse.com/tools
February, 2017
A Series of Articles on EPM Based on Pathogenes Inc:
EPM Survival Guide – Part 2
Kevin L. Brophy, DVM

Antibodies are formed in response to infections whether the horse gets the symptoms of EPM (neuro inflammation) or not. These antibodies appear at day 17 and persist for months, even after the infection is gone. Inflammation is the way offending organisms are removed by the host. Lasting inflammation after removal of the offending protozoa can m;imic active protozoal disease. If opossums are around the horse can also be reinfected. Since chronic inflammation can persist after removal of the organism (infection), the neuro inflammation must be treated.

Immune reactions to sarcocystis neurona start immediately after 3 days the disease is chronic, with horses rarely showing symptoms within the first 3 days. If an untreated infection continues, antibodies will form and can be detected in a couple weeks. The longer an active infection, the higher the antibody titre. Antibody levels will decline with resolution of the infection, unless plenty of opossum cause reinfection through their shedding protozoal ooctysts in feces. The horse's own immune responses can eliminate the parasite. The majority of horses have no EPM disease but still have serum antibodies. Thus, horses are efficient at parasite elimination since they are aberrant hosts. We do not know why some horses succumb to EPM and it's neuroinflammation, while most horses do not! Some EPM serum antibody testing is not specific enough creating as many as 80% of horse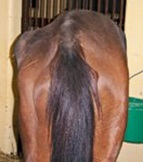 s in a population to test positive.
If a horse has clinical signs and a rise in antibody levels, treatment for EPM should begin. If the antibody levels fall, this indicates that the protozoa (parasite) has been eliminated. Yet, the horse can remain symptomatic and unresponsive to anti-protozoal therapy. Hence, very specific anti-inflammatory therapy is necessary.
Sarcocystis Fayer: Is a protozoal infection where the horse is the true intermediate host with cysts formed in the horse's muscles. These cysts do product toxins. These cysts normally produce no reaction in the horse unless debilitated causing inflammation and disease. Dying S. Fayeri cysts may show signs consistent with EPM.
Protozoal proteins associated with release from cysts or merozoites can be toxic and cause intestinal inflammation (ileitis). The sarcocysts typically do not induce inflammation. If the cysts die or merozoites are circulating inflammatin is induced and the inflammation leads to clinical signs. Remember, finding parasites in the nervous tissues of the sick horse is very rare.
The inflammation (antibody formation), however, is used to identify EPM horses. These inflammatory pathways elicited by the parasite do not respond to non-steroidal antiinflammatories (NSAID's). Steroid anti-inflammatories suppress the horse's immune system favoring parasite growth, and should not be used.
January 11, 2017
A Series of Articles on EPM Based on Pathogenes Inc:
EPM Survival Guide – Part 1
Kevin L. Brophy, DVM
Disease causing ataxia caused by a protozoa called sarcocystis neurona. The organism cannot finish its life cycle in the nervous system of the horse. Equine Protozoal Myelitis is an inflammatory process created by the horse's immune system as the result of the presence of a protoza (parasite). Inflammation in the nervous system looks the same no matter what the cause. According to Dr. Siobhan Ellison, identifying and treating specific inflammatory pathways is an overlooked branch of EPM research. The history of identifying the sarcocystis organism (parasite) in the central nervous system is rare. The definitive diagnosis must come from a dead horse.
Sarcocystis neurona has a preference to reside in the muscle tissues of it's natural host. They have toxins associated with the cysts created in those muscles. Protozoa adapt to the host by changing their appearance to avoid detection by the immune system. Antibodies are produced by the immune systemin response to specific markers on the surface of this protozoa (parasite). These markers are multiple and changing through the protozoa's life cycle. Protozoa can initiate antibody formation by the horse to it's own body know as auto immune disease. Inflammation is the first line of defense in an infection apart from antibodies formed against a specific organism. Inflammatory reactions have many start/stop mechanisms.
Many horses are exposed to sarcocystis neurona and they make antibodies when infected. Specifically, the S. Neurona type antibodies are tested for at Pathogenes as some antibodies the horse makes are cross reactive with other types of sarcocystis protozoa. The notion that cerebrospinal fluid has specific antibody to S. Neurona only is compromised by a leaky blood-brain barrier during inflammation and blood (serum) contamination of the cerebrospinal fluid sample. Many normal animals have antibodies to sarcocystis including non-S. Neurona that do not cause disease. Most horses can eliminate the S. Neurona infections and not experience symptoms. The antibody detection method must be specific for S.Neurona in a horse showing symptoms. The antibody serum testing must incude those of SAG 1, 5 or 6.
The parasites rarely get into the CNS (central nervous system) of the horse. Sapcocystis have predelection for muscle tissue. The inflammatory molecules set off by sarcocystis, not the parasite itself, are capable of causing the symptoms associated with equine protozoal myelitis (EPM). Serum antibodies indicate that the cause of neuroinflammation and it's symptoms are from sarcocystis neurona. As the cause (one of the multiple possible causes).
The most common cause of EPM worldwide in the horse is sarcocystis neurona with the opossum as the host to complete it's reproduction cycle and shed the organism in it's stool. Thus opossum population control or lack of that control can contribute to reinfections of the horse. The opposum eats infected muscle tissue from intermediate hosts like racoons, skunks, armadillos, cats, etc. The parasites sexual cycle is started in the gut of the opossum. Theaoocysts are shed in the opossum stool and they are picked up in food, hay, or water by the horse and of course true intermediate hosts as mentioned above. After replicating in the gut cells, the parasite is released into the blood stream and have muscle as the preferred target. Quite likely, the parasite is carried inside white blood cells (leukocytes) in the muscle cells the parasite forms cysts (sarcocysts). The cycle begins again when cyst-infected muscle is eaten by the opossum. Aberrant intermediate hosts like the horse do not form muscle cysts. The protozoa has deftly avoided the immune system of a normal intermediate host mechanized with cyst formation in muscle. Unfortunately, the aberrant host like the horse initiates an immune response resulting in inflammation. The inflammatory response can lead to disease. Remember, the inflammatory process has many start/stop steps in it's chain.
Speak with Dr. Brophy or your veterinarian to determine the best course of treatment.
**Abba Vet Supply strongly encourages you to consult your veterinarian regarding specific questions about your horse's health. This information is not intended to diagnose or treat any disease, and is purely educational.**
Product availability and prices may change without notice.
HEAD SHAKING (IDIOPATHIC)
December, 2016
Headshaking (Idiopathic)
Kevin L. Brophy, DVM
The symptoms of blowing through the nostrils (snorting), rubbing the nose muzzle and face, flipping or shaking the head up and down or side to side or rotationally, can be associated with ear mites, eye problems, nasal and ocular mucous membrane, irritation from allergens or irritants, sinus cavity irritation or infection, dental problems including tooth roots residing in the sinus cavity, and the headshaking syndrome.
Idiopathic headshaking, which includes flipping the head and others of the above listed symptoms, occurs in the absence of tack and rider. This syndrome can be associated with photic (light) stimulus. The trigeminal nerve giving rise to other facial nerves has been shown to have a heightened firing potential. This trigger is compared to photic stimulated sneezing in people. The headshaking symptoms are commonly experienced on a seasonal basis as the days lengthen. Some of these horses have been found seeking shade for relief. Insect controls may or may not help. According to the John Madigan, Stephanie Bell study reported at the 1997 AAEP meeting, they found a majority of the cases have a seasonal component.

Some of the tools bringing relief include nose nets, which can cause panic and local skin irritation, facemasks blocking UV radiation, which can be associated with reduced vision and stumbling, and magnesium supplementation which can be overdosed while more readily absorbed with high forage diets.

According to a study by John Madigan, Kirstie Pickles and others, reported at the 2014 AAEP meeting, the trigeminal nerve giving rise to the facial nerve has a decreased threshold for firing in these horses. However, no structural abnormalities of the nerve have been detected. In the 1997 and 2014 studies, cyproheptadine is a pharmacologic tool used with significant success. Cyproheptadine is an antihistamine, seratonergic blocking agent, and anticholinergic. Possible adverse side effects associated with cyproheptadine's use include lethargy, drowsiness, incoordination and colic. Other pharmacologic tools include melatonin. A 5pm daily dose beginning before the days lengthen in spring may be keeping the horse's biologic clock in winter, thus a significant portion of these horses will not shed their winter coats properly. Additionally, melatonin use can negatively influence sex steroid (hormone) production. Some horses have responded favorably to melatonin use by diminished headshaking apart from the prior to spring protocol. The scientists in this study theorize that melatonin's effect on pain modulation reducing it through multiple mechanisms. A double blind study of pulsed high dose dexamethasone (corticosteroid) therapy showed no effect on idiopathic headshaking. However, the report given in 2014 revealed some benefit associated with corticosteroid administration. Long term and high dose corticosteroid use has potential negative side effects associated with immune system suppression and laminitis.

The 2014 study reported the best results associated with the use of magnesium and melatonin together. Magnesium decreases the reactivity of the nerves, consequently, reducing the reactivity of the trigeminal nerve.

Veterinarians can aid in the diagnosis of idiopathic head shaking by helping to eliminate other factors causing similar symptoms. The care giver's use of recordkeeping for tracking symptoms and variables surrounding their expression can be very helpful to the veterinarian applying diagnostic tools. Remember to avoid fans on their face and grazing in tall grasses.
Pastern Dermatitis Syndrome "Scratches" "Cracked Heal"
December, 2016
Pastern Dermatitis Syndrome "Scratches" "Cracked Heal"
Kevin L. Brophy, DVM

Terms:
Pentoxifylline, ectoparasites (mites), bacteria, bloodflow, yeast, fungual dermatophytes.
Exudating – crusting, weeping, hair loss, erosions due to vasculitis (inflammation blood vessels), itching.

Symptoms
Differential diagnosis (causes) of lower limb dermatitis include:
Photosensitivity of non-pigmented areas
Irritant or allergic contact
Infection from staphylococcus, dermatophiloss, malassezia (yeast)
Immune mediated
Sarcoids
Consequently, giving your veterinarian a complete history, including systemic and topical medications used, tThe examination, and diagnostics are of utmost importance. Diagnostics can include skin scrapings, skin cytology, and biopsy.
Environment can be predisposing or primary factors in equine pastern dermatitis, such as: bedding, pasture, sand, insect burden, moisture. Irritant contact dermatitis is commonly associated with chronic moisture such as muddy pastures and bathing without drying the pastern. Of course, chronic moisture predisposes to dermatophyte (fungal) infection as well, which can be contagious to people.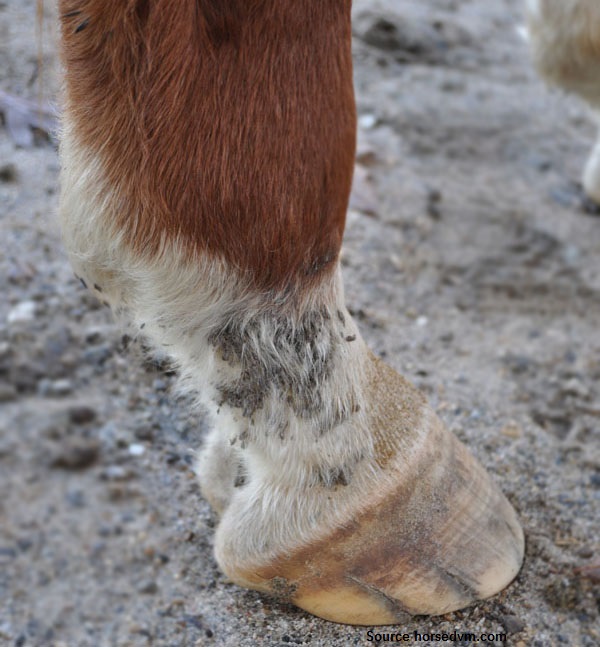 Sysptoms include, swelling, scaling, loss of hair, crusting, exudate, may include ulcers due to vascuitis from secondary bacteria infection. Constant movement can produce cracks and fissures in the skin and can cause lameness and itching.
Bacterial infections associated with this syndrome are two primary organisms: staphylococcus aureus and dermatophilus congolensis which can involve crusting, secretions, and ulceration beneath scabs. Chronic moisture with trauma are required for these invaders. Immunocomprimised horses are more susceptible, thus, corticosteroids anti inflammatory use in the horse can be a predisposing factor. Fungal infection can be part of the cause for this dermatitis. The mites cause lots of itching and, or, stamping feet. Suspicion of the mites becomes greater if other horses incontact are affected.
Horses with white extremities are susceptible to photosentitization from ultraviolet rays. Contact photosensitization in the horse can be caused by exposure to clover pastures. Other causes of photosensitization can be ingestion of the St. John's Wort, buckwheat, and rye grass. Photosensitization can also be a sign of liver problems.
Recommend veterinary consultation may involve diagnostic procedures like: skin scraping, microscopic examinatin with and without stain, specialized culture for fungal elements, and possibly biopsy for immune-mediated and cancerous lesions.
Predisposing factors include pastures with mud, water and sand.
Management Considerations:
Dry stalls during wet weather
Turn out after morning dew dried.
Avoid contact allergy by switching bedding, for example avoiding treated wood shavings.
Clip hair to avoid mosture retention.
If photosensitization is suspected avoid exposed to UV rays using wraps.
Affected skin should be cleansed immediately after exercise using an antiseptic shampoo.
If lesions are below the saddle, a towel or cotton sheets changed daily pay prevent spread.
Consider disinfecting tack, blankets, saddle pads, etc. where relevant and create a changeable barrier between the horse and these items.
Topical Therapy:
Use antibacterial shampoos such as benzoyl peroxide (2%) or chlorhexidine 2% (or other products). Shampoo, lather, let soak 10-30 minutes gently removing crusts, rinse and dry well. Repeat this for 1 week, then repeat 2-3 times weekly. This procedure will help greatly with the common secondary bacterial infection.
A product that can be applied as a wash/rinse or sprayed on left to dry daily is hydrogen peroxide (pure oxygen) addressing bacterial, fungal, and viral pathogens.
This product is safe for topical use on horses and all surfaces.
When lesions produce exudate, lime sulfer solutions can be used topically.
Lime sulfer dips and sprays will treat dermatophytes (fungal elements) and mites. Miconazole 1% or miconazole 1% and chlorhexidine shampoos can be uses.
Systemic antibiotic therapy may be needed in severe cases (15-30 mg/kg every 12 hours): Trimethoprim sulfamethoxazole.
Discontinue antibiotic therapy in the horse immediately if any signs of diarrhea or colitis occur. Enrofloxacin 5mg/kg orally every 24 hours has been used successfully. Do not use Enrofloxacin in foals or growing horses! Procaine Penecillin G 22,000 IU/Kg intramuscularly twice daily for 7-10 days can be used to treat dermatophilosis infections. Please consult your veterinarian for the needed duration of these therapies. Remember, the horse is susceptible to colitis with the use of any systemic antibiotic.
Systemic antifungal therapy with Griseofulvin has little data to support its effectiveness; However, the author has used this drug with great success on severe skin infections caused by fungal elements for years. Ketoconazole, and fluconazole are also available for systemic antifungal treatment at greater expense.
Antiparasite therapy includes ivermectin 1% given orally at a dose of 300ug/Kg once weekly for 4 consecutive weeks. Topical pour on Eprinomectin (500mg/Kg) once weekly for four applications is effective against mange mites. Topical treatment include permectrin, selenium sulfide shampoo followed by lime sulfer (6oz per gal.) sponged on every 5 days for 1 month. Environmental decontamination is important as well.
Click here for more information on products carried by Abba Vet Supply.
**Abba Vet Supply strongly encourages you to consult your veterinarian regarding specific questions about your horse's health. This information is not intended to diagnose or treat any disease, and is purely educational.**
Product availability and prices may change without notice.
Source: "Equine Pastern Dermatitis". Equine Dermatology. December 2013. (pp 577-588, Author Anthony A. Yu, DVM, MS)
Advantages and Disadvantages:
Advantages
Less Bleeding – The laser seals small blood vessels during surgery
Less Swelling – Decreased bleeding and no crushing of tissues decreases post-operative swelling.
Shorter Hospitalization Times – Many procedures can be done with standing sedation and therefore, the horse does not require general anesthesia. This reduces the risk of complications as well as hospitalization time.
Precision – The laser can be controlled precisely to remove thin layers of tissue.
Less Pain – The laser seals nerve endings as it cuts therefore, the patient experiences less pain.
Sterilization – The laser sterilizes the surgical site (kills bacteria) as it cuts.
Faster Recovery – A decreased amount of bleeding and swelling will result in faster healing of tissue. This will lead to a faster return to activity and use.
Disadvantages
Requires specialized equipment and training.
Can result in excessive thermal damage to adjacent or target tissue if not used appropriately.
Every horse owner should know in case a vet is not around!
Horses have a very well-developed "fight or flight" mechanism and when anything happens to startle them, they often react first and think later. If they get caught in something such as a fence or barn wall, their first instinct is to leave; often without regard to whatever body part happens to be caught at the time. Therefore, horses have a well-deserved reputation as being accident-prone.
Laminitis is a common and potentially devastating foot problem that affects all members of the equine family: horses, ponies, donkeys mules, and wild equids. The disease process involves a breakdown of the bond between the hoof wall and the distal phalanx, commonly called the coffin bone, pedal bone, or simply P3.
The Hoof wall-coffin bone bond is the only thing that prevents the horse's body weight from forcing the coffin bone through the bottom of the hoof. This bond must be strong enough to withstand the forces sustained by the hoof at a gallop, yet dynamic enough to allow the hoof wall to grow uninterrupted as it is worn at the ground surface.
LARYNGEAL HEMIPLEGIA OR "ROARING"
Laryngeal hemiplegia, also known as roaring, is a condition of the upper respiratory tract that results in respiratory noise and decreased performance in the horse. This condition is most commonly reported in the racing Thoroughbred, but also occurs in other large breed performance horses including Warmbloods, Draft horses, and Standardbreds. It is estimated that about 8% of large sport horses are affected with laryngeal hemiplegia.